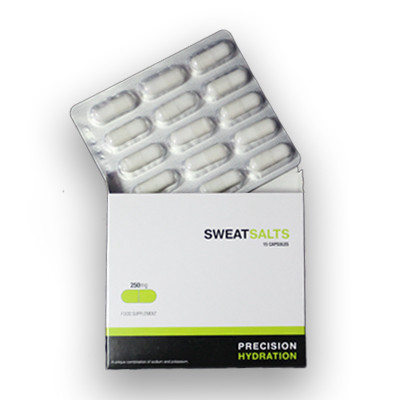 SweatSalts (15 capsules)
£6.99
SweatSalts are for serious athletes who need to keep on top of their hydration when sweating heavily on the move.
Each capsule provides the key electrolytes lost in sweat and are designed to aid fluid absorption, whilst being easy on the stomach. The capsules are blister-packed, making them convenient for longer training sessions and events.
Each box contains 15 capsules. Take 1-2 SweatSalt capsules per hour with a few decent swigs of water during sweaty exercise. A higher dosage may be required for some people during extreme conditions. We don't recommend taking more than 10 capsules per day.
Nutritional info
Each 1 capsule serving typically provides:
Sodium: 250.02mg
Potassium: 125.81mg (6.3% Nutrient Reference Value)
Ingredients Tri-Sodium Citrate, Sodium Chloride, Potassium Chloride, Tri-Potassium Citrate, Capsule Shell: Hydroxy Propyl Methyl Cellulose, Calcium Citrate, Magnesium Citrate, Magnesium Stearate.
All Precision Hydration products are HFL batch tested to ensure they are free from substances on the WADA anti doping list.
Do not exceed the recommended daily dose
Do not use as a substitue for a varied diet
Store out of the reach of young children
Sweat Salts capsules are a food supplement
Product manufactured in the UK to GMP standards