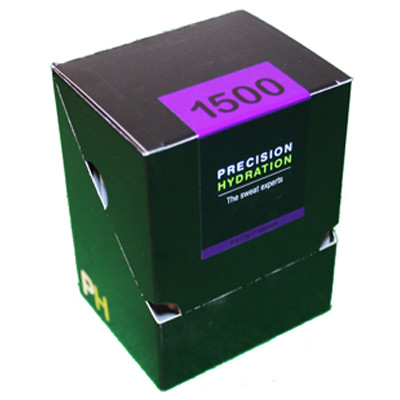 Precision Hydration 1500 is packed full of electrolytes and is designed to help you start hydrated.
At 1500mg of sodium per litre (32oz), it's about 3x stronger than typical electrolyte drinks. The extra sodium helps you absorb and retain more fluid, boosting your blood plasma volume which reduces cardiovascular strain, so you can maintain your performance for longer.
89% of athletes who suffered with cramp said that PH 1500 helped solve their cramping issues, so if you tend to have cramp up after you've been sweating for a while it's well worth giving pre-hydrating a try.
Most athletes drink PH 1500 BEFORE periods of intense, sweaty activity but athletes with higher sweat sodium losses also use it when competing.
Each box contains 8 handy waterproof single-serving sachets. 1 sachet mixes into 500ml (16oz) of water.
--
Ingredients Sugar, Trisodium citrate, Citric acid anhydrous, Vitamin C (ascorbic acid), Potassium citrate, Natural flavouring, Calcium lactate gluconate, Magnesium citrate.
No Artificial Flavours - No Artificial Sweeteners - GMO Free - Vegetarian - Vegan - Dairy Free - Nothing you don't need.
-
Electrolyte content (per 1l / 32oz - when mixed as directed)
Sodium: 1500mg
Potassium: 250mg
Calcium: 48mg
Magnesium: 24mg
-
Nutritional info
Energy: 62.6 kCal/ 265.8 kJ per 20g serving (313 kCal/ 1329 kJ per 100g)
Protein: 0g
Fats: 0g
Carbohydrates: 15.5g per 20g serving, of which 15.5g sugars (78.2g per 100g, of which 77.5g sugars)
Salt: 1.88g per 20g serving (9.38 per 100g)
-
Store in a cool and dry place, out of the reach of young children
Precision Hydration products should always be consumed as part of a balanced and varied diet.
Precision Hydration products are independently batch tested to certify them free from contamination with substances on the WADA anti-doping list and this product is on the Informed Sport / Informed Choice programme.
Manufactured in the UK for Precision Hydration Ltd.